Adding Sponsor Logos To Your Cricket Uniform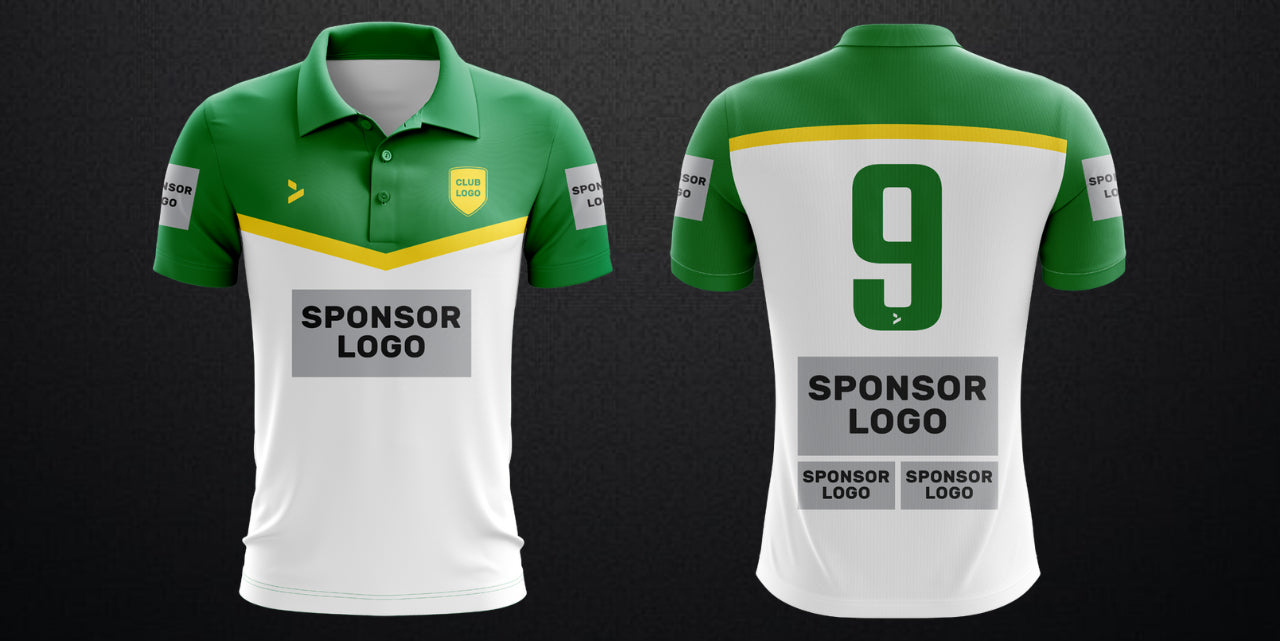 For many cricket clubs, sponsorship funding is a vital part of the annual operating budget. Offering sponsor logo positions on club uniforms and merchandise is a key attraction for many local businesses.
It is important that the appearance and placement of your sponsors' logos gives them the exposure they expect. In this article we offer our best tips for submitting sponsor logos plus a simple sponsorship campaign for you to run this cricket season.
The Right Logo Files
After confirming your cricket club sponsors, the first step is to obtain high-resolution files from each business. A low-quality logo file will result in blurry, pixelated print on the uniform.
An acceptable logo file should be submitted in one of the following formats:
Vector (.eps)
PDF
AI (Adobe Illustrator)
Ensure your sponsors are aware they need to provide high quality logo files to get the best result. Any business that has printed a brochure or signage should have a high-resolution file on hand.
Tip: Enlarge the logo file to maximum view and see if it will stay clear. A pixilated logo will not be appropriate for printing on your sublimated uniform. You should be able to zoom right into the logo and it should remain well-defined.
Logo Placement
After your logo files are checked, the next step is to work on logo placement. There are many positioning options for logos across cricket playing and training garments, and the best option will depend on logo size, shape and club preferences. Varying logo shapes can impact the positioning, for example, a circular logo is not ideal for a 'front of shirt' sponsor (rectangular shapes are generally best).
Including too many sponsor logos on your uniform can negatively impact the exposure benefit and may even discourage sponsors from resigning. You want to include enough sponsors to cover the cost of uniforms while not distracting from the overall design of your uniform. Finding a balance between the appropriate number of sponsor logos and your fundraising potential is important. At KPI Sports we are happy to help in finalising your logo placement and jersey design.
Tip: Make sure to send each sponsor proof of placement and receive their confirmation before the final approval. Changing the placement or size of a logo is difficult and will delay the overall production time.
--------------------------------------------------------------------------------------------------------------
How To Run A Successful Sponsorship Campaign
Finding sponsors does not need to be difficult. Start planning early to maximise sponsorship support from local businesses. Our simple guide to running a sponsorship campaign is below.
1) Create a sponsorship target 
Set an achievable goal so the project is a success.
Break your target down into different levels (e.g., Bronze/Silver/Gold depending on what you are offering). A small logo on the back of a shirt will be worth less than a large logo on the front.
Create a Sponsorship Proposal. This is the document you can send to potential sponsors to explain the benefits for them. 
2) Find contact details for at least 20 local businesses 
If you don't have an existing database of contacts, send a club email and social media posts to gather contact details. E.g., "Calling all business owners involved in the [Your Cricket Club] region! Become a part of the [Your Cricket Club] Business Community! Please send your contact details to [email address] to be part of our family and access promotional opportunities".
3) Email the Sponsorship Proposal to these contacts 
Personalise each email (do not do a mass email!)
For new contacts, thank them for joining your community.
For current or past sponsors, thank them for their past support. Present this new opportunity as one you want to give them early / priority access.
4) Follow up with a phone call
Did they receive the email? Discuss the main benefits with them.
Directly ask if they would like to support the club. Mention how the club will be supporting sponsors this season.
5) Send an email of thanks 
For those agreeing to sponsor, ask for the logo files they want to use. Include the invoice for sponsorship and confirm the date for a sponsorship announcement via social media.
For those who have declined, thank them for their time and ask permission to contact them next time there is a sponsorship opportunity. 
6) Provide extra value
When entering a sponsorship deal with a local business, ensure the sponsor is acknowledged in all marketing and communication material.
Allow your sponsor to promote their product or services at your next club event or competition day.
Deliver! Give sponsors what they have paid for, and if possible, something extra.
For more tips on attracting and retaining sponsors, read our article here
Want more fundraising tips? Read our article "Fundraising Tips from An Expert"
About KPI Sports
KPI Sports offers a wide range of cricket apparel and equipment to help your teams reach their potential. Contact our team today to start creating your cricket club uniform! Collection 2019 Sale 70% Off Title for image