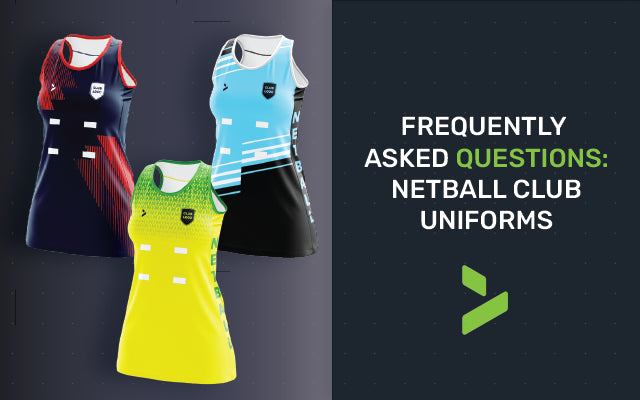 To make it easy for new committee members, we've published the most commonly asked questions and answers we receive from netball clubs sourcing new uniforms and training apparel.   
Can you match our current netball uniform and colours?
We can match your existing netball uniform design, as long as your club "owns" the design.
We cannot directly copy a design created by another apparel company or designer (unless they approve), but we can definitely create something similar.
We can also match colours in existing uniforms, but we will need to see a physical example of your current dress (or polo/singlet etc). 
The other option is to provide us with a pantone or PMS colour code, if you know them. 
Most of the time we rely on visual colour matching and customers send an example of their current uniform so we can match colours to our new designs.
Can you design a new netball uniform for us? 
Yes! We'd love to! 
We can either create something you have sketched out, or start with something completely new.  We have a number of templates that clubs can reference, either 'as is' or adjusted to suit your club.  If you are not sure about where to start, have a look through some of the templates in our custom uniform section.
Any design can be applied across different garments.
 So for example, if you see a polo shirt design you really like, we can put that on a netball dress, and short tights, and singlets etc.  And vice versa – if you have a dress design you want to use across the club, we can design all the club and training uniforms to match. 
All our design work is done by our in house team who are experienced in turning design concepts into real uniforms.   They will provide practical tips and suggestions when creating a design that works across all the members of your club. 
How to choose sizing for my entire club?
We use standard Australian sizing, so think K-mart, Target, Big W as a handy guide.  
Having to order for your entire club can be daunting, especially for the first time. 
The first step of course is to get a good handle on the age range of your players, and chat to other committee members to get an idea on if sizing is "average". 
Some clubs know that they have very tall girls, or maybe you have a big over 30's competition, and this will impact your sizing choices.  Check our website for size charts or give us a call to learn more.
We also offer extra length in netball dresses for no extra cost, some clubs choose to add +5cm on all dresses, and some will just have a portion of extra length for the taller players. 
Do you have sizing kits available?
Yes, we have sizing kits for our most popular styles we can lend to your club. We also have detailed sizing charts if you need them. 
Sizing kits can be picked up from our showroom, or posted out to you.We ask for you to return sizing kits within 2 weeks.
What is sublimation?
Sublimation (in custom uniforms) is a process where detailed designs can be directly "printed" on to fabric, the fabric is then sewn together to make the garment. 
This means that very detailed and unique designs can be added to uniforms.  Using sublimation allows sporting teams, clubs, associations, schools and businesses to fully customise their uniforms with unique colours, designs, sponsors, numbers and names.
It is also a type of printing technology that can be applied across lots of different types of products.  For clubs, that means your dress, polos, singlets, short tights, playing bibs and jackets can all have the custom club design, and have other customisation like sponsors or player names. 
Do you use lightweight fabrics?
Yes!  Our netball dresses are made of high-quality lightweight sports fabrics which are durable, breathable, quick drying and built to last. 
Our fabrics are designed for active use and performance sports environments.  They are extensively tested in the harsh Australian climate and used by sports teams across Australia and the Pacific. 
Our playing products are available in Club and Pro Range options, get in touch with us to discuss which will be best for you. 
Do you offer sponsorship?
Yes, we offer sponsorship to clubs that choose KPI Sports as their preferred apparel supplier. 
Contact us via email or phone to discuss sponsorship opportunities.
Do you have minimum order quantities?
There are minimum order quantities for custom garments, which are made to order.  This includes products like netball dresses, custom short tights, custom polo shirts and singlets. 
For most custom sublimation, the minimum order is 10 units, with pricing benefits for bulk orders. 
There are some products with higher minimum order quantities because of the type of product and how they are manufactured.  For example, custom netballs (min 100 balls), custom socks (min 60 pairs), school leaver jerseys (30 jerseys), scarves (100 units)
Check out our custom netball uniforms.
Head over to our Knowledge Center for more news and informative article.
Email our sales team to learn more about what we can do for you! Collection 2019 Sale 70% Off Title for image