Grip Socks: Play Your Best Game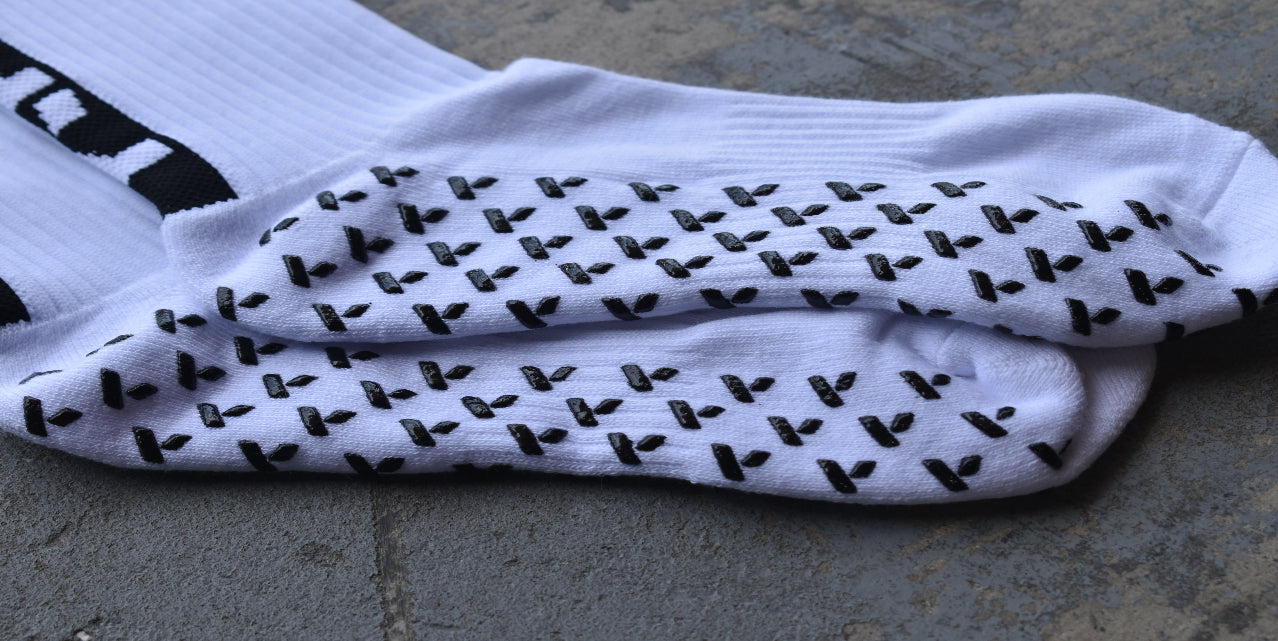 Step up your game in the KPI Sports Grip Socks. With KPI Grip Socks, improved grip and performance is no longer just for elite level players. KPI Grip Socks are a performance product that offers players of all abilities the confidence of reduced internal slippage and improved traction, giving the edge to win on the field. 
There is no better grip sock on the market! KPI Sports Grip Socks provide stability and boot responsiveness to gain that extra advantage while playing. Made with high-quality, durable silicone icon prints on the sole, KPI Grip Socks are a great product to include in your club merchandise range.
Don't be fooled by high priced alternatives. KPI Grip Socks offer all the benefits of premium grip socks without the price tag. Unlike some grip socks on the market, the KPI Grip Socks silicone grip cover the full sole in a smart geometric design without excess fabric that can make the sock feel heavy and hot. 
Our Grip Socks are on special throughout December 2021 for orders over 10 pairs. Make sure you take advantage of this offer and order today for immediate delivery. KPI Sports Grip Socks are available in black or white in youth and adult sizing M (2-7), L (7-11) and XL (11-14).
Custom Grip Playing Socks
Custom full length playing socks with grips are a new alternative to traditional grip socks. These are best suited to clubs seeking to discourage players from cutting playing socks and reducing the risk of grip sock colour clashes. 
KPI Custom Grip Playing Socks are manufactured to the same specifications as the premium KPI Ultra Playing Socks, with the addition of silicone grip on the soles that are added during production. These Custom Grip Playing Socks can also be customised with text, club colour and other design features like stripes or hoops. 
Custom Grip Playing Socks are best suited to large clubs, with a minimum order quantity of 300 pairs and 100 minimum pairs per size. Available in the full KPI Sports Sock size range of XS to XL, get in touch with your Account Manager to discuss Custom Grip Playing Socks for your Club. 
KPI Sports
KPI Sports is Australia's go-to supplier when it comes to football sportswear and equipment, with a team of experts ready and willing to cater for your needs. Our range of products includes football jerseys, football shorts, football socks, training tees, zip pullovers as well as shin guards, balls and goals - everything you need to make your mark on the pitch. All our gear is carefully manufactured to ensure it lasts the season and beyond. We invest in durable materials with advanced technology to ensure comfort for athletes so they can perform their best.
Discover the advantages of KPI Sports football apparel and equipment. Browse our range today. Interested in becoming a KPI Partner Club? Contact us today or learn more here. Collection 2019 Sale 70% Off Title for image