KPI Sports Ball Care Tips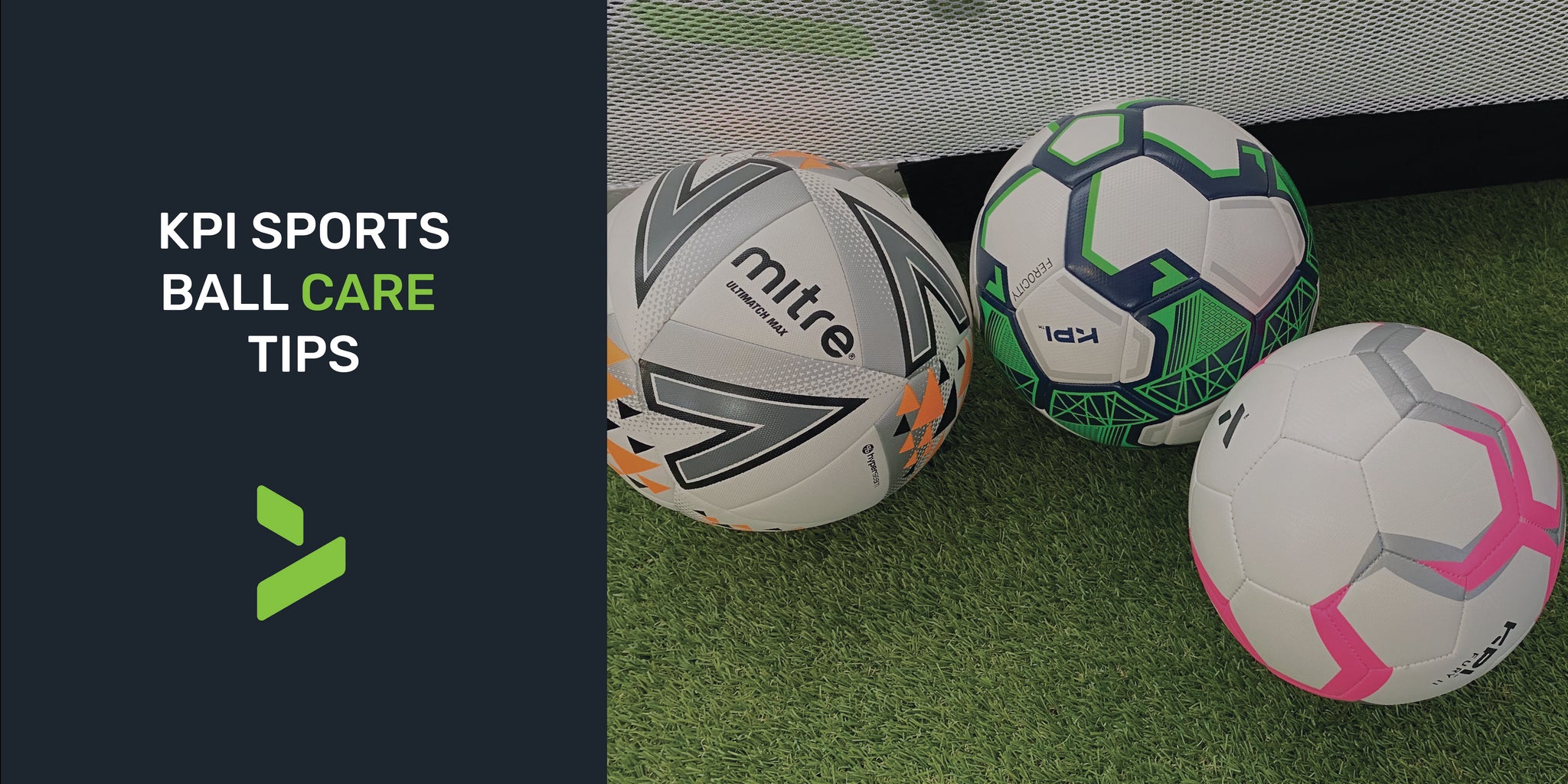 Taking care of your club footballs is critical to ensure maximum life and performance.  To get the best out of your footballs, old or new, we have put together some important football care tips.  
Appropriate ball inflation and care will increase the life of your football and ensure the best performance on the field.
Football Composition and Materials
Premium level footballs are usually made from PU (polyurethane) for the outer. PU has excellent wear and tear resistance, good elasticity and low-temperature performance. A PU outer gives the ball better feel and retains shape better during play. PU balls are normally hand-stitched but thermo bonded (glue and heat) footballs are an increasingly popular.
TPU (thermoplastic polyurethane) provides high levels of elasticity and is incredibly resistant to stresses such as abrasion and stains. TPU is commonly used for machine-stitched footballs and is more durable than PVC. The combination of TPU and a foam layer makes the football softer which assists with control.
PVC (or vinyl) is a common thermoplastic used in the outer layer of training footballs.  PVC is known for its durability, scuff resistance and value for money. PVC lends itself well to custom designs and is a good option for clubs looking for customised footballs that include club colours, logos and sponsors.  
Inflation
Inflate the football to approximately 75% of full pressure and allow the football to stand for an hour to two before inflating to full pressure.
All KPI Sports footballs have maximum inflation pressure stated on the ball. A gauge should be used to ensure the pressure is correct as different footballs may require different pressures.
Never over inflate the ball.
Always use a light application of lubricant on the needle such as Vaseline or glycerine (in emergencies saliva is better than nothing!).
Insert the needle vertically not sideways or on an angle.
Any crinkles in your football will disappear within a short period of inflation. 
Use
KPI Sports footballs are suitable for grass or synthetic turf only.
Do not use the balls on hard surfaces such as roads or concrete. Do not repeatedly kick your football into walls or fences.  
Storage
Keep your football out of direct sunlight or heat for prolonged periods.
Do not keep in cars for extended periods as the heat can damage the ball.
If using in wet weather, towel dry after use and allow to dry inside.
Do not use a heater, hair dryer or extreme heat to dry your football.
Store in a cool, dry place
Keep some air in the football bladder at all times, except for short periods if you are transporting footballs.
Check out our range of footballs from training to premium match footballs.
More questions?  
Contact us any time to discuss how best to care for your club's footballs, or visit our head office in Brisbane.  
About KPI Sports
We are a teamwear business with a long history in football!  We supply clubs nationally with all their apparel and equipment needs.  Most importantly, we are an Australian owned business that supports community sporting organisations.  Contact us today for a chat about your club! Collection 2019 Sale 70% Off Title for image