Netball Bibs: Practical Tips and Fundraising Ideas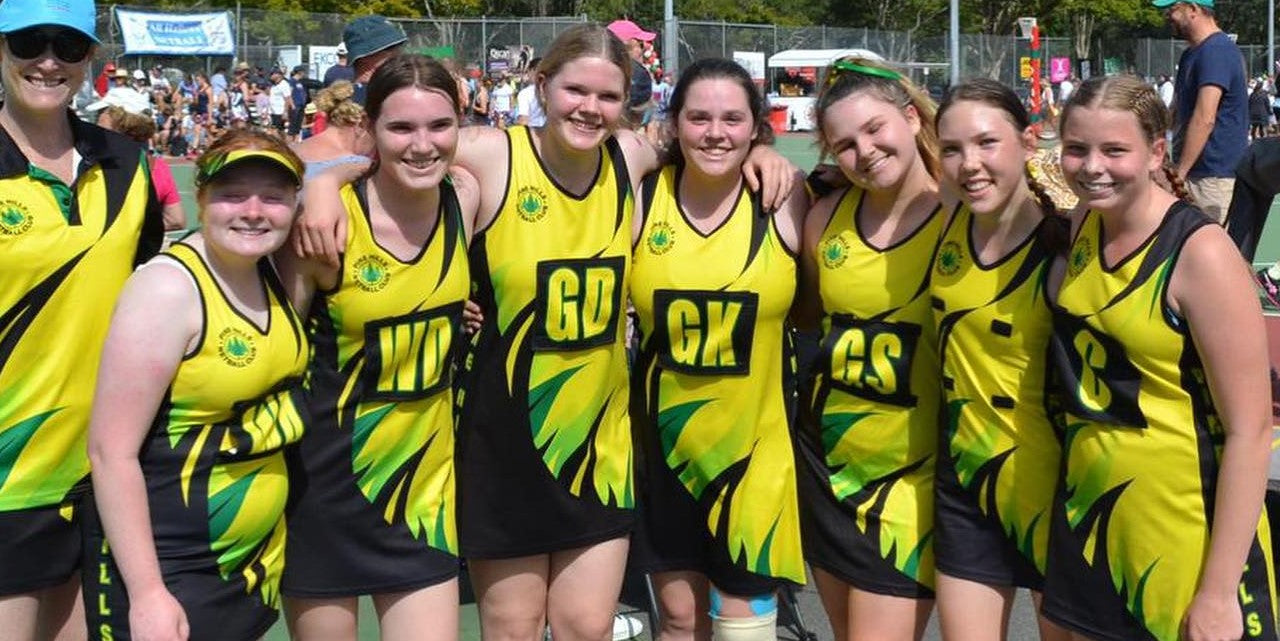 Netball bibs are an essential item for every netball squad. Although netball bibs are a relatively straightforward product, your club should consider which bib set best suits your club's needs. In this article, we will discuss the benefits of the two common bib types and how to leverage them as a sponsorship opportunity for your teams.
Bib Types
Netball clubs can choose between two styles of bibs: Over-Head or Velcro-Patch.
Over-Head netball bibs are most commonly used at training and are purchasable in both junior and senior sizes. Available as an in-stock item at KPI Sports (ready to ship when purchased), your club can choose from a range of popular colour options. Over-Head netball bibs are the most feasible alternative for club dresses without Velcro strips or if your team needs set of bibs on short notice.
Velcro-Patch netball bibs are typically sold as a custom product item and are the preferred competition bib choice. Velcro-Patch netball bibs integrate more seamlessly with netball uniforms and create a professional appearance amongst netball teams. Unlike Over-Head netball bibs, Velcro-Patches do not interfere with netball motions because they are not adding an extra "layer" of uniform. Velcro position patches are sold in packs of 14 at KPI Sports and come in a consistent sizing to accommodate any netball garment.
Custom Netball Velcro-Patches
In Australian netball, custom netball Velcro-Patches are the most common bib option for competition. Custom netball bibs are made-to-order and designed to match the colour of your club's dresses. Custom netball bibs have several advantages:
Designed to complement your dresses
Easy to store
Increases club identification and branding
Excellent fundraising potential
Flexible to fit any sized dress
Design Tips
Custom Velcro-Patches are created in a process called sublimation. This means the bibs can be printed with any colour, pattern or text. Velcro-Patch designs should be simple with position lettering clearly visible to players, coaches and umpires. Follow these suggestions to add some design flare to your Velcro bib patches:
Choose a unique font
Outline the font for extra impact
Include your club name below the position
Incorporate a modest component of the garment design into your bib background
Does your club use training bib patches? Why not include some more creative and fun graphics here! Experiment with a bright option or a strong contrast between background and font colours. Rainbows and paint splashes, for example, can look great on the right dress design.
Sizing
Custom Velcro-Patches are made-to-order bib sets tailored to match your netball garments. Most suppliers will have a basic size that fits the "average" netball dress (e.g., 20cm X 20cm), but you can request a specific sized set from KPI Sports if required. Netball clubs around the country have varying patch sizes as it is typically determined by suppliers and the positioning of the Velcro strips on their dresses. When switching suppliers, you shouldn't be concerned about these varying sizes since bib patches are customised to meet your clubs requirements.
At KPI Sports we recommend buying Custom Velcro-Patches slightly larger than the strip alignment so the patch will rest over the Velcro (making it less noticeable). If you are concerned about Velcro-Patch sizes, please discuss this with your KPI Sports Account Manager.  
Fundraising Opportunity
Including a sponsor name or logo on a custom Velcro-Patch netball bib is an excellent way to provide local businesses a "spot" on your club dresses. Despite its small size, this area is highly visible on both the back and front of netball dresses. This is an appealing concept for businesses looking to promote themselves though local community sport. If you are looking to further reduce uniform costs, perhaps feature multiple sponsorships across different group divisions and teams.
When entering a sponsorship deal with a local business, ensure that the sponsor is acknowledged on social media and in other club marketing materials. If you want sponsors to return for the next season, you must give them exposure and demonstrate you value their contribution. More sponsorship recognition ideas can be found here!
Do you have any further questions about netball bibs?
Contact our team today
! We assist several netball clubs in Australia with their uniform requirements and are happy to provide suggestions and clarity regarding club uniform purchases. Collection 2019 Sale 70% Off Title for image