Pushing Barriers: Mary's Story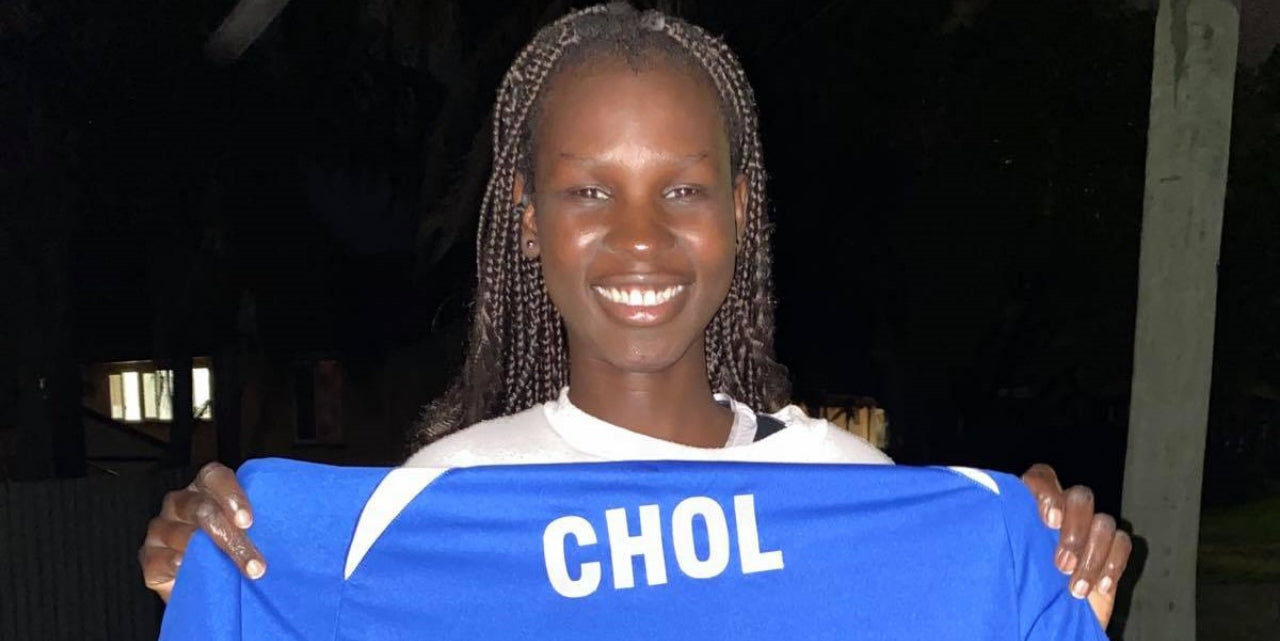 Earlier this year KPI Sports announced a new community partnership with not-for-profit organisation Pushing Barriers.
Pushing Barriers aims to improve the lives of refugee youths by providing them the opportunity and funding to participate in community sport. The volunteer run organisation is based in Brisbane and supports over 70 players across football, netball, basketball and tennis. Six young players were selected as recipients of the 2021 KPI Sponsorship based on their determination, resilience and skills.
Last week we spoke to scholarship recipient and passionate basketball player Mary about her achievements this year and why community sport is so important to her.
At the West Brisbane Falcons Basketball Club where Mary has been playing for the past few years, she found her passion for playing sport.
"When I arrived in Australia, I had never played any sport before. My older brothers played basketball, so I thought it was only for boys. Next thing you know it's the sport I wanted to play!"
Mary's newfound confidence began when she started playing community sport in Brisbane after settling in Australia in 2014. She says playing basketball gave her the belief she could apply for school captain and pursue another new passion, public speaking.
Mary was awarded the 2021 Lions Youth Public Speaking Award for her outstanding presentation where she discussed any potentially positive aspects of the coronavirus lockdown. A difficult question which Mary says took some time to prepare!
As the 2021 vice-captain of St James College in Brisbane, Mary enjoys the challenge of balancing her year 12 studies and playing basketball for both her school and club. Mary mentors younger grades in her spare time and hopes to combine her passion for writing and creativity when applying for university this year.
Mary knows first-hand how beneficial community sport can be for younger kids, highlighting the importance of programs like Pushing Barriers.
"Regardless of your background, everyone should have the opportunity to play sport. Without Pushing Barriers, I would never been able to afford to play basketball and probably wouldn't be the talkative and confident person I am today".
Mary says her new basketball friends are like her best mates, and they all encourage each other to come to trainings and games. Mary hopes to make all her supporters proud, especially those volunteering for Pushing Barriers.
"I just want to make everyone proud and give back as much as I can. I am so passionate about public speaking now so hopefully in the future I can combine this and talk to people about Pushing Barriers because it is so important that they continue to help other refugees wanting to play sport".
When Mary talks about her future and what she has achieved this year, her entire face lights up. Mary is about to enter her final exams and hopes to graduate into a business degree next year. She wants to continue playing basketball and meet new friends as she looks to join another social team. In the future she wants to be able to give back to Pushing Barriers and help them continue to support refugees in community sport.
To learn more about the KPI Sports partnership with Pushing Barriers read the full article here. To support Pushing Barriers, visit their website www.pushingbarriers.org Collection 2019 Sale 70% Off Title for image