Netball Dress Sizing: Making Ordering Easy!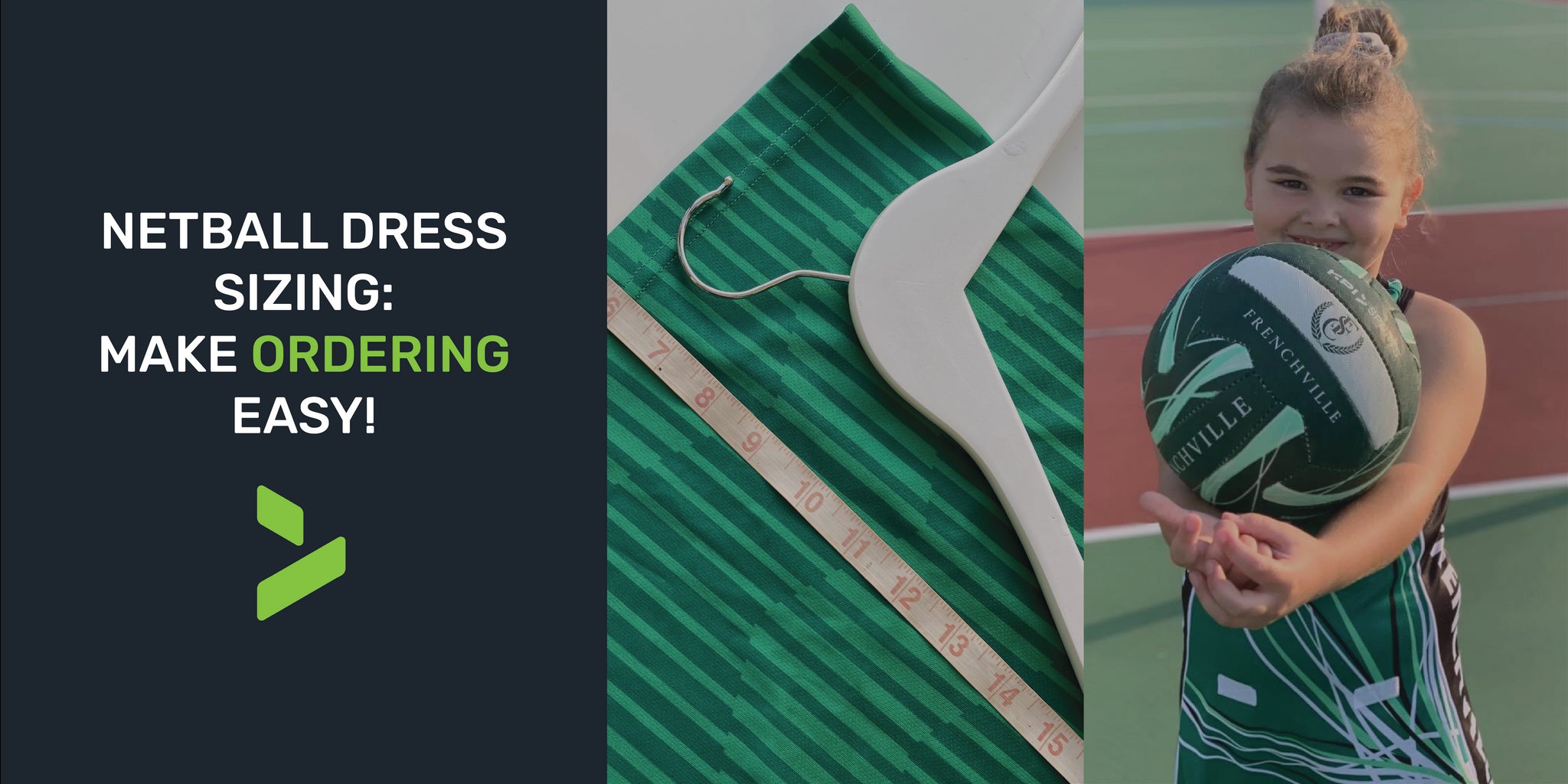 Having a club netball dress that fits and feels comfortable is important for your players enjoying their day on the court.  For netball club Uniform Coordinators, this means having a good range of sizes available in the uniform shop and for sign-on days. 
It can be tricky working out the right mix of sizes to keep in stock, especially when club netball dresses need to be ordered before the season begins. 
In our experience working with netball clubs, there are a few basic principles that make ordering netball dresses easier for community clubs.  
Netball dress sizing: key points
Accommodate all shapes and sizes, hold a few extras in stock.
Plan ahead for top up orders.
Choose a uniform supplier with clear sizing and delivery times.
Making Sizing Simple
Accommodate all shapes and sizes
It is a good idea to have a couple of dresses in the very smallest and very largest sizes in stock at the uniform shop, so all players feel welcome.  Not being able to accommodate new players because they aren't a "mainstream" size is no fun for you or the player.  Holding a small amount of netball dresses in extra stock is an easy fix.  
Always refer to what dresses and sizes were used in previous years, and keep in touch with the rest of the committee.  What do they think numbers might look like next season?  Were there surprises last year? Are there age groups that are always very popular?  These questions aren't a guarantee of what will happen next season, but it is a good starting point.   
Adding some netball dresses with extra length to your order is also a good option.  Most uniform suppliers should allow you to order extra length for no extra cost, and it means you're covered if tall players come along (or have growth spurts during the year).
Plan for top-ups
Clubs often order netball dresses around November for the next season, and where possible, order in bulk to secure volume pricing.  That is a good option for managing your club's budget. 
Need a hand coming up with a grant proposal? Check out part one and part two of our community club grant blogs.
Keep in mind that player numbers might be different than your forecasts (in terms of popular sizes) and putting a top-up order of dresses around February is easy and will mean the netball dresses arrive to the club early in the season. 
Reliable sizing
Choose a uniform supplier with experience in supplying netball dresses and can offer reliable sizing.  That means their netball dress sizing doesn't change between orders and is consistent with size charts they provide you. 
Most uniform suppliers will promise this before you order.  The best way to test netball dress sizing from uniform suppliers is:
Ask what is tolerance for returning dresses that are not the right size, e.g. if you receive a dress which is 5cm different to their sizing, can it be replaced for no cost?
How long have they been supplying netball dresses?
Ask other clubs about their experience of the uniform supplier.  References from other clubs are a great and independent source of feedback.  
Although choosing netball dress sizes for your entire club can feel overwhelming, especially if it's your first time as a uniform coordinator.  Don't worry too much! The first season is the hardest, but our tips should help with ordering the club netball dresses.  At KPI Sports we are always happy to share tips on a no-obligation basis.  Get in touch if you have any questions!
Got a question? It might be answered in our Netball FAQ! Collection 2019 Sale 70% Off Title for image