Design Tips 101 - Netball Dress Designs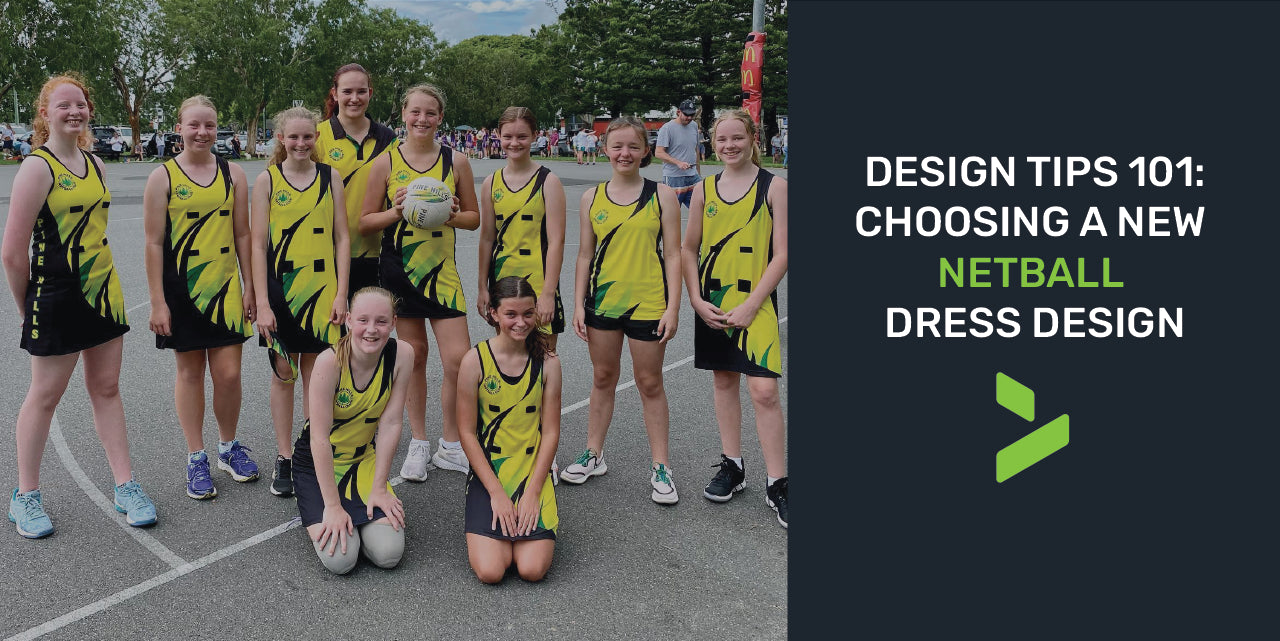 Have you recently become Uniform Coordinator at your netball club tasked with coming up with a new netball dress design?  Or maybe you're an old hand on the committee but it is time for a new dress design?  
Choosing netball dress designs can be challenging, especially if you're managing lots of different opinions.  To help, we have put together a list of tips for choosing a new netball dress design. 
Remember, a "good" design is a subjective.  At KPI Sports, we see lots of patterns, colours and design combinations.  Choosing a netball dress design has practical considerations as well as aesthetic considerations.  There is no 100% right or wrong answer and you can't always please everyone! 
Points to Remember:
Colours: Most colours can look great on a dress, but think about sweat and visibility!  Avoid light colours in important places like underarms, necklines and the lower part of the dress.
Narrow your brief: what does the Committee want? Sometimes a Club only wants a very minor change. Save time by finding this out early.
Bibs: remember that bib patches take up quite a bit of available design space on a dress.  Bib-friendly designs are simple to create, but it needs to be built into your planning.
From big to small: your design should work equally well for children's and ladies' sizes, think about how the design would look when scaling up and down. 
All Colours of the Rainbow 
Netball dress colours are usually pre-determined by your club's colours (usually in the logo). Sometimes these colours might seem like a challenging combination, but subtle design techniques can make most combinations look great e.g. the introduction of a neutral third colour. 
Avoid white or pale colours around the arm holes and neckline if possible.  Also, because players do end up sitting on bitumen in their dresses, avoiding light colours on the back lower part of a netball dress can be a good decision.  Check out our blog on colour if you want more tips in this area.
A Design Brief
Netball dress designs are often relatively conservative and follow traditional structures.  This is tradition, but also because the middle of the dress is obstructed by bib patches.  Before working on new design concepts, try to get a brief from the Committee. For example, what do they like and not like? What does the Committee want to change or keep?  Is it a minor change or something very different? 
With some guidance, 2 -3 different initial concepts is a good start.  These can be conversation starters if nothing else.  Let the Committee know that you want to narrow down the options, and aren't necessarily tied to a particular design. 
The web and social media pages are a great place to find netball dress design ideas.  
Remember: the netball dress design should consider other parts of the dress, e.g. bib placement, club logos, personalisation (names or other text on the back), and side panels. 
KPI Sports offers custom sublimated netball dresses. Head over to our article on sublimation to get inspired and learn about the sublimation process
All Shapes and Sizes
Most netball club teams range across age groups, which means uniforms will come in the very smallest sizes to the larger ladies sizes.
At KPI Sports, we think the best designs work across all dress sizes, and the design scales correctly in production.  Your uniform supplier should cover this with you during final artwork approval.  Be sure to ask that the pattern will be scaled for all sizes. 
You should also be able to request extra length on dresses from your uniform supplier for part or all of your order (KPI Sports offers this service at no extra cost).  Make sure the design can accommodate dresses with extra length. 
Is it Your Design?
Who "owns" your club netball dress design is important if you decide to change uniform suppliers.  If the netball club owns the netball dress design e.g. the club created the concept, then you should have no problem transferring to another supplier and using the same netball dress design. 
If the netball dress your club uses came from the uniform supplier, they will own it.  This means you'll need to make some minor changes (or start with a completely new look) if you decide to change uniform suppliers. 
Talk to your current or new netball dress supplier to be clear about this upfront.  It will avoid hassle down the track. 
Still struggling? 
Give us a call with any questions about netball dress design.  We are happy to chat even if your club sources netball dresses from another uniform supplier.  It usually takes no time to help with design questions and we are happy to share our knowledge! Collection 2019 Sale 70% Off Title for image